Home & Auto Insurance in Ogden and Brigham City, UT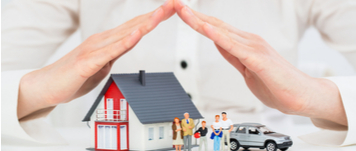 For more than 70 years, Blackburn Jones Company has helped individuals in northern Utah protect valuable assets such as a home or automobile. While we are committed to offering our clients comprehensive insurance solutions, we also understand that time is important. To protect the investments and time of our clients, we offer the option to bundle insurance protection.
By combining home and auto coverage, our customers not only receive the discounts that come with a multiline policy, but also a more efficient experience. We routinely insure drivers and homeowners in Weber, Davis, Cache, Box Elder County and the surrounding areas.
Exceeding Utah Liability Minimums
In Utah, drivers are required to hold liability minimums of $25,000/$65,000/$15,000. While we adhere to state laws, we often recommend higher limits to keep our clients properly protected. When matching a client with liability coverage, we will review their past driving record, as well as their current budget. We also aim for liability limits that will be sufficient enough to protect our client's assets instead of relying on state minimum coverage.
Packaging Home and Auto Coverage
We are able to offer our clients important coverages for both home and auto such as collision insurance and property insurance. However, through our relationship with carriers such as QBE, Cincinnati, Auto Owners, and Bear River Mutual, our clients can package these coverages for increased savings and other perks. When bundling coverage, we work with our clients one-on-one to understand their individual needs and risks. We then answer any questions and make appropriate recommendations regarding coverage and cost.
Please contact us to learn more about our products and policy add-ons.
Keeping Clients Secure
At Blackburn Jones, our staff of knowledgeable agents provide our clients with exceptional customer service that is both prompt and thorough. We enjoy building lasting relationships with our clients and are equipped to protect them at every stage of life. Once we have worked with our clients to put a policy in place, we review rates and coverage annually.
To begin working on a policy with a friendly agent, please request a quote.
Additional Resources
Savings Associated with Bundling Insurance (Investopedia)
Ways to Save on Homeowners Insurance (Insurance Information Institute (III))
Consumer Guides for Homeowners Insurance (National Association of Insurance Commissioners (NAIC))